Nitrate contamination of potable water sources is a critical water quality concern for many small water systems. The federal maximum contaminant level (MCL) for nitrate, set by the United States Environmental Protection Agency (U.S. EPA), is 10 mg/L as nitrogen (N); the California MCL, set by the State Water Resources Control Board (SWRCB) Division of Drinking Water (DDW) is consistent with the federal MCL. The major health concern of nitrate exposure through drinking water is the risk of methemoglobinemia, or "blue baby syndrome," especially in infants and pregnant women. Due to the nature of the infant digestive system, nitrate is reduced to nitrite which can render hemoglobin unable to carry oxygen (SWRCB 2010).
Strong base anion exchange (SBA-IX) treatment is the most common form of active nitrate treatment in California. SBA-IX is also used as a treatment method for other contaminants including perchlorate, arsenic, uranium, and hexavalent chromium. The process uses a strong base anion exchange resin to remove nitrate from the treatment stream. The resin is regenerated using a concentrated salt solution to remove nitrate from the resin. Regeneration of SBA-IX resin produces a concentrated waste brine solution that requires disposal. The most significant drawback of this nitrate treatment option, especially for inland communities, is the cost for disposal of waste brine, which represents a significant lifetime financial burden. Operations & maintenance costs can be a barrier to implementation of SBA-IX as a solution for nitrate-impacted small stand-alone water systems. Recent research focusing on brine waste management for small water systems in the SJV highlighted the need for regional solutions to address the Valley's nitrate problem, particularly with respect to brine disposal (Jensen & Darby 2016). Shared service administration of nitrate treatment for multiple small water systems is one such solution. Although there are many potential challenges associated with the implementation, management, and successful operation of such options, regional solutions are necessary to sustainably address the chronic non-compliance of small water systems in the San Joaquin Valley.
This Proposition 50 project aims to provide proof of concept in the implementation of shared service administration of SBA-IX for nitrate removal for a cluster of small water systems in the San Joaquin Valley. Focusing on nitrate removal with SBA-IX for small water systems in the SJV, the objectives of the project are to:
Identify key considerations for the implementation of a

shared service administration

approach;

Demonstrate application of

shared service administration

;

Perform an affordability assessment comparing the costs of stand-alone treatment with those of clustered treatment with

shared service administration

; and

Evaluate statewide application of

shared service administration

of small water systems for sustainable potable water treatment.
Demonstration locations have been selected from nitrate-impacted candidate sites; participating water systems include Rio Bravo Greeley School Water System, Lindsay Strathmore Irrigation District (LSID) – Tonyville, and Woodville Public Utility District.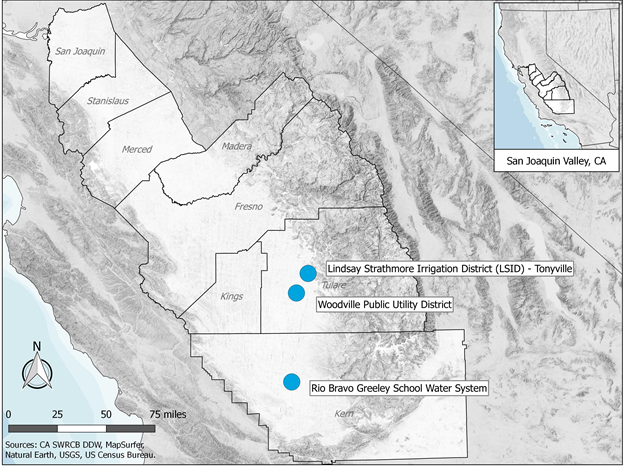 Challenges
Current practice is for individual communities to invest large sums of money to investigate treatment options and find equipment providers. Catalog equipment solutions do not exist for small community applications in the San Joaquin Valley. For communities, engaging folks to design your own system typically results in a unique machine requiring expensive unique servicing parts and specialist maintenance skills. Our Proposition 50 funded goal is to providing communities and suppliers with common equipment configurations from trusted suppliers, common spare parts, and shared service administration of service providers. Economy of scale from repetitive build, installation and operation of water treatment systems reduces individual community financial risk and operational costs.